Personal Best Test Training: Technical Reading Study Guide
Boost Your Reading Scores
Personal Best Test Training: Technical Reading™ gives you the strategies you need to approach reading and comprehension with confidence. You'll form skills and strategies so you can do your best on questions that require reading, understanding, and interpretation of text and complex graphics in timed-testing situations like the ACT Science, SAT and PSAT Reading, and SAT and PSAT Writing and Language tests.
ACT, SAT, and PSAT Preparation
ACT

The ACT Science Test is packed with difficult - and often confusing - graphics. The perceived difficulty, compounded by the fact that this subtest occurs at the end of the test-taking period, causes some students to get frustrated and skip over passages full of complicated graphics. 
ACT Science Test questions are based on these topics:
Life sciences
Chemistry
Earth/space science
Physical science
The test presents scientific information, data, and experiment summaries that are interwoven with regular text and charts, graphs, tables, and other visual information. Test-takers must then analyze, interpret, evaluate, and apply the information they see in front of them, as well as compare alternative viewpoints.
SAT
The SAT now embeds graphical information - tables, graphs, and charts - into passages featured in the Reading and Writing and Language tests. These reading materials present challenges similar to those of the ACT. The good news is that the approaches to successfully dealing with them are similar.
PBTT: Technical Reading presents you with a solid attack strategy that empowers you to approach graphical information in a systematic and efficient way, and helps you answer questions effectively. This same process can also be used to demystify intimidating reading materials. 
Backpack-Friendly Practice Books
The 64-page PBTT: Technical Reading guide provides: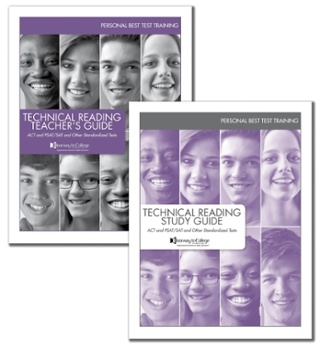 Strategies for analyzing, interpreting, evaluating, and applying visual information (graphs, charts, and tables) 

Tips for answering questions based on passages combined with graphics 
10 practice sets that use ACT and SAT-style graphics and technical reading passages
Download PBTT: Technical Reading Study Guide sample pages

TEACHERS: A complimentary, eight-page teacher's guide is included with each set of 30 PBTT: Technical Ready Study Guides purchased. The guide provides activities to help you enhance and extend learning in the classroom.
A Comprehensive Solution
PBTT: Technical Reading is just one part of a comprehensive solution to help you do your best on the ACT and PSAT/SAT. For an overview of the entire Personal Best Test Training program, click here.
Request More Information

Click below to request more information about PBTT. Or call 877-927-8378. We'll be happy to answer your questions.