Personal Best Test Training: Ordinary Reading Study Guide
Improve Reading Comprehension Under Pressure
Personal Best Test Training (PBTT): Ordinary Reading™ gives you tools and strategies so you can demonstrate your true reading ability on the ACT, SAT, and PSAT Reading Tests - without letting anxiety, time, or confusion get in the way. PBTT: Ordinary Reading exposes you to the type of focused reading you'll need to do despite tight time limits, challenging reading material, and hard comprehension questions. 
Familiar Tasks
There's nothing mysterious about the ACT, SAT, and PSAT Reading Tests. In almost all ways, they're just ordinary reading tests - just perhaps a little more difficult than other reading tests you've encountered before. Each test has a slightly different question style, but the content being tested in these three exams is very similar. PBTT: Ordinary Reading arms you with advice and practice on how to: 

Identify central ideas and themes in what you read
Summarize thoughts and ideas
Draw valid conclusions based on what you read
Understand relationships in text, such as sequence, comparisons, and effects
Determine the meaning of vocabulary in context
Understand purpose, perspective, and technique
Evaluate claims and arguments, along with supporting reasoning and evidence
Distinguish fact from opinion
Recognize text structure and rearrange elements for logical flow
Understand character point of view
Connect ideas across texts
Strategies
PBTT: Ordinary Reading provides strategies that have proven effective on standardized reading tests with more than 300,000 students in hundreds of high schools from coast to coast. Tips range from pacing strategies matched to the student's skill level, close reading strategies, approaches to specific question types, what to do when time starts to run out, and more.
Backpack-Friendly Practice Booklets
In addition to the tips and strategies you'll learn, you'll also need plenty of practice to use these strategies on test day. The more reading you do that involves materials of similar format, style, and difficulty, the more prepared you'll be for all three reading tests.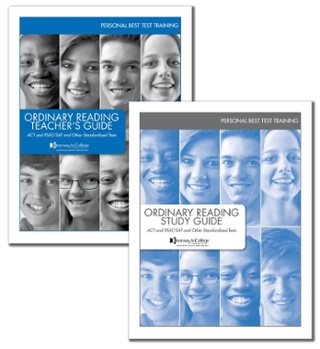 The 53-page PBTT: Ordinary Reading Study Guide provides:
Tips and strategies for success on standardized reading tests and the ACT, SAT, and PSAT/NMSQT
10 practice sets of reading passages and questions in a format similar to those found on the three reading tests
Thorough answer explanations for each practice question 
Download PBTT: Ordinary Reading Study Guide sample pages

TEACHERS: A complimentary, eight-page teacher's guide is included with each set of 30 PBTT: Ordinary Reading Study Guides purchased. The guide provides activities to help you enhance and extend learning in the classroom.
A Comprehensive Solution
PBTT: Ordinary Reading is just one part of a comprehensive solution to help you do your best on the ACT and PSAT/SAT. For an overview of the entire Personal Best Test Training program, click here.
Request More Information

Click below to request more information about PBTT. Or call 877-927-8378. We'll be happy to answer your questions.