Personal Best Test Training: Essay Study Guide
Ace Timed Writing Tests
Personal Best Test Training: Essay™ training shares tips, hints, and strategies with you so you'll know how to best prepare for the ACT Writing Test and SAT Essay. Although both tests involved timed writing, each exam approaches it differently - and presents its own complex challenges. After this training, you'll know the ins and outs of each writing subtest, and know how to work with the time you're given.

Wait! Isn't the Essay Optional?
ACT and the SAT (essays are optional, but we encourage you to write them anyway. Even though you may not need an essay score for the schools you currently plan to apply to, what happens if your choices change? If you don't participate in the essay during your first test, you'll have to re-take the entire exam again if you later decide you need an essay score. 
ACT, SAT, and PSAT Preparation
The timed, standardized essay is an exercise in quick, focused thinking. To be successful, you have to have a plan:
How will you analyze the prompt (the statement letting you know what the essay should be about)?
Will you be able to pick out the directives (the words that tell you how to answer)?
How will you organize your thoughts before you start writing?
Will you be able to put a draft together with enough time remaining to review it?
What steps will you take once your draft is complete? How will you polish the piece?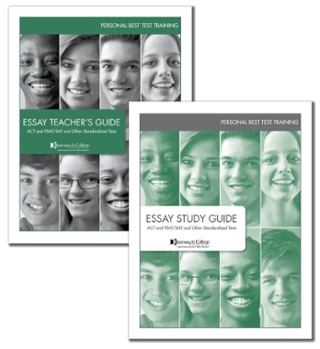 The 21-page PBTT: Essay Study Guide explains what is expected on the ACT and SAT essay tests, and provides guidance on how to attack each test most effectively within the timeframe you're given. You'll also learn strategies that will guide you through all stages of the writing process, including tips on pacing and tools you can use as you practice.
ACT Writing Test
The 40-minute ACT Writing Test presents an issue along with three different perspectives on the issue. You'll be asked to analyze and evaluate these three perspectives, develop your own perspective, and then explain the relationship between your perspective and the perspectives given. To help you prepare for this portion of the ACT, PBTT: Essay will give you:
A three-step attack plan for approaching the ACT Writing Test
4 practice writing prompts so you can take time to figure out what works best for you during this portion of the exam
A writing checklist to follow that will help you make sure you've completed the entire process correctly
Scoring information to help you determine how well your essay will score
SAT Essay
The 50-minute SAT Essay presents you with a piece of writing and asks you to analyze it. During this 50 minutes, you're asked to explain how the author builds a persuasive argument and supports his or her explanation with evidence from the passage. 
To help you prepare for this portion of the SAT, PBTT: Essay will give you:
10 writing strategy tips to help you approach the SAT Essay in a way that works best for you
Easy-to-understand scoring rubric so you know how your essay will be scored
2 sample passages with practice writing prompts so you can try out what you learn
Download PBTT: Essay Study Guide samples pages
TEACHERS: A complimentary, eight-page teacher's guide is included with each set of 30 PBTT: Essay Study Guides purchased. The guide provides activities to help you enhance and extend learning in the classroom.
A Comprehensive Solution
PBTT: Essay is just one part of a comprehensive solution to help you do your best on the ACT and PSAT/SAT. To learn more about the entire Personal Best Test Training program, click here.
Request More Information

Click below to request more information about PBTT. Or call 877-927-8378. We'll be happy to answer your questions.