Personal Best Test Training: Editing Study Guide
Strengthen Your Writing Skills
Personal Best Test Training: Editing™ training walks you through an eye-opening review of the English language. This program complements the Personal Best Test Training: Essay™ guide. Use them together to score as high as possible on the ACT English Test and SAT and PSAT Writing and Language Tests! 
Almost every employer ranks effective written communication as a top new-hire skill. PBTT: Editing solidifies these skills, boosting your test performance and giving you a head start on your future.
ACT, SAT, and PSAT Preparation
PBTT: Editing teaches skills and strategies for answering the editing-style, multiple-choice questions on the ACT, SAT, and PSAT. 
The ACT English Test challenges you to choose the correct way to write the underlined portion of a sentence, which tests you on the following skills: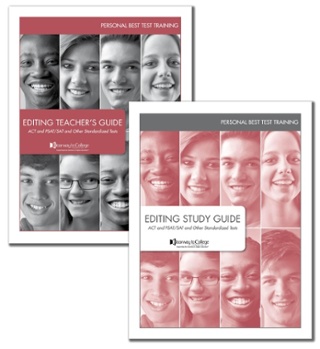 Usage/mechanics (punctuation, grammar, word usage, and sentence structure)
Rhetorical skills (style, strategy, and organization)
The PSAT and SAT Writing and Language Tests are similar, testing you on:
Expression of ideas (development, organization, and effective language use)
Standard English conventions (spelling, grammar, punctuation)
Using words in the correct context
Command of evidence (how information and ideas can be used to develop and support claims and points)
With this guide, you'll learn how to approach these tests and how to spend your time wisely on challenging questions. We'll also tell you what each test is looking for when they certain questions related to writing process and style (it's not always what you may think). 

Backpack-Friendly Practice Booklets
The 74-page PBTT: Editing Study Guide provides you with:
Tips and strategies that ensure success on standardized English and writing tests
A comprehensive grammar review
10 practice sets of ACT- and PSAT/SAT-style editing problems
Thorough answer explanations for each practice test item 
Download PBTT: Editing Study Guide sample test pages 
TEACHERS: A complimentary, eight-page teacher's guide is included with each set of 30 PBTT: Editing Study Guides purchased. The guide provides activities to help you enhance and extend learning in the classroom.

A Comprehensive Solution
PBTT: Editing is just one part of a comprehensive solution to help you do your best on the ACT and PSAT/SAT. For an overview of the entire Personal Best Test Training Program, click here.
Request More Information

Click below to request more information about PBTT. Or call 877-927-8378. We'll be happy to answer your questions.