College Prep: How Do You Know If Your Teen Is Ready for College?
Oct 14, 2014 8:37:00 AM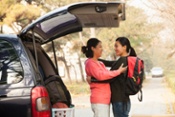 As you and your teen begin the transition to college, it's easy to get caught up in the flurry of college prep courses, ACT or SAT practice tests, and college admission and student loan applications. However, have you stopped the cyclone of the college application process to consider if your offspring is truly ready for college?
The statistics are shocking enough: It's predicted that half of the incoming freshman class will fail to graduate in four years. Consider the following questions to help determine if your student is ready for the responsibility and workload a college education requires:
Does your teen demonstrate age-appropriate maturity and independence?

A college education and fruitful campus life require your student to be organized and self-sufficient. No one is going to push your adult child out of bed in the morning and make him to go to class. As part of your teen's college prep, he should know how to balance a checkbook, seek a doctor, keep up with personal hygiene, manage his nutrition, and do laundry without supervision.
Is your teen motivated by the college admissions process?

There are three levels of a student's motivation to attend college:
Intrinsic motivation: She is really excited about college and is very involved in the process of applying for college.

Default motivation: She is filling out college applications and taking college entrance exams because it's the next thing a high school graduate is supposed to do.

External motivation: Attending a college or university is what you want her to do, but she doesn't know why she's going.
Put simply: If the internal motivation to attend college is not there, it's time to consider why and how that's going to affect your teen's readiness.
College prep courses are a great way to help your teen get engaged with the process of applying to college and preparing for college entrance exams. 
Has your teen challenged himself in school and excelled at college-level studies?

A student's ability to excel in high school AP-level classes is a strong indicator he is primed to transition to college. On the other hand, if your student is struggling with college-level work in high school, his freshman year may prove difficult. (Of course, a schedule that is too overloaded also can lead to difficulty with challenging high school coursework. Encourage your teen to be careful in planning his course schedule during the last two years of high school so as not to overdo it.)
Is your teen emotionally stable and resilient?
A great way to gauge if your student is emotionally stable and resilient when it comes to having a successful academic career is to let her fill out college application forms without your interference. Part of college prep is letting her get a feeling for what independence is really like, including the pragmatic pressures that come along with adult responsibilities. Look for other opportunities to give her adult-level responsibility. Watch for signs of frustration and notice whether she is easily defeated, then guide her in how to bounce back and face these challenges head-on.
If you answered "yes" to the majority of these questions, your teen is ready for college.
If you are still unsure if your teen has the right qualities for transitioning to college, take our free quiz, College Entrance Exams: Is Your Student Ready? This quiz will help you dive deeper into college prep issues.